FALL IN LOVE FOR A LIFETIME
Not very many closet company offers quality that we do, at such competitive prices. Our storage solutions are designed with the latest trends in mind and will add more value and functionality to your home. We provide a warranty to the original owner for as long as you own your home, giving you the confidence and peace of mind in your investment.
VIEW CUSTOM CLOSETS GALLERY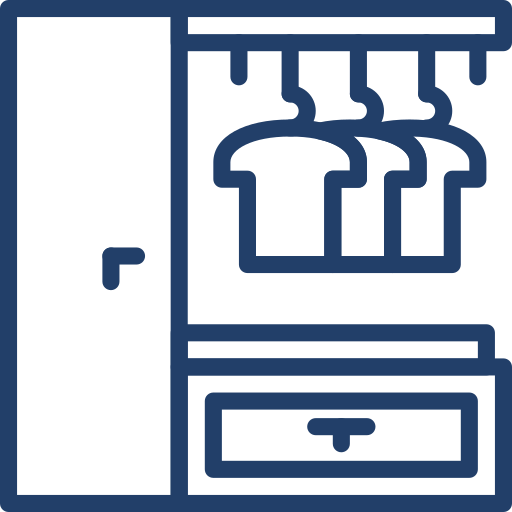 CUSTOM CLOSETS, PERFECT FIT
Every closet is unique, and every user has a different vision of what a closet should be. The wardrobe spaces we design are so versatile and built fully custom for the user. A custom solution allows you to get the absolute maximum use of your space. Deciding what to wear will no longer be a chore when all your belongings are organized and in their designated place. We offer a wide variety of options to accommodate a wide range of tastes and budgets. Opt for a simple design, or incorporate some or all of the options into a luxurious design.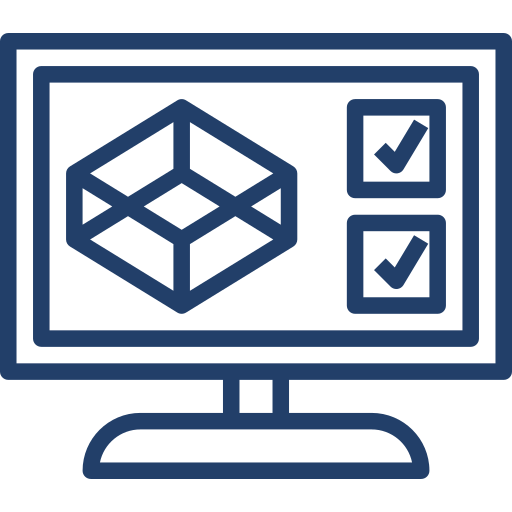 We offer a no-cost, in-home consultation to customize your closet to your needs. Before we begin the design process, we will consider your space, your closet inventory, and your budget. You will work together with your designer to achieve the best possible solution. Our design consultants use 3-D CAD software to create a visual model of how your closet will look before it gets installed in your home.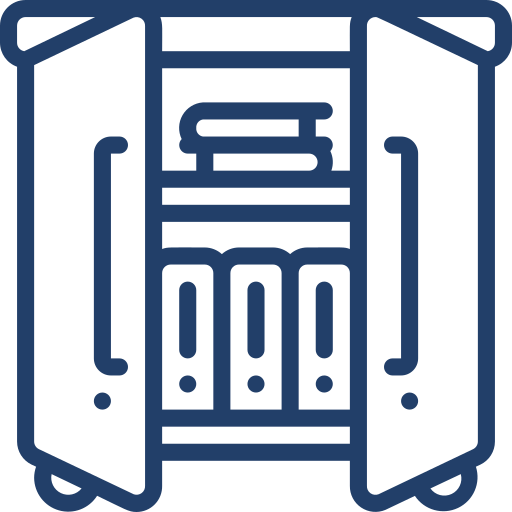 OPTIMIZE YOUR STORAGE SPACE
Add that finishing touch to your custom closet from our carefully selected collection of innovative accessories. Some of the popular choices include wire baskets, laundry hampers, tie racks, pant racks, and belt racks. Additionally, we offer luxuries like custom made velvet lined jewelry trays and glass or mirror doors. Top that off with lighted drawers and soft close hinges, and you've got the closet of your dreams.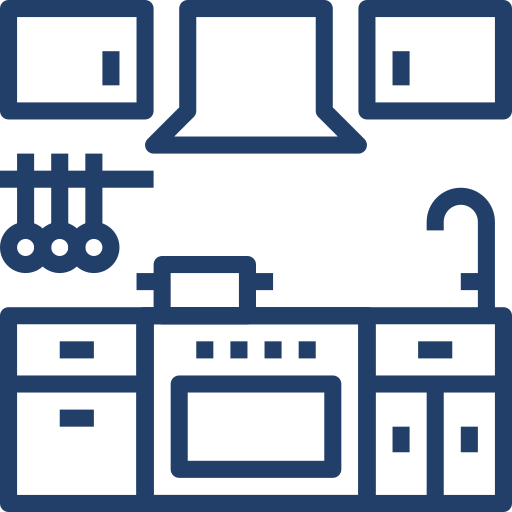 Custom closets are not limited to just bedroom closets. We can create a place for everything in your pantry, laundry room, entry, or hobby area – just about any space that needs organization. Our durable, easy to clean cabinets make a great addition to any pantry. Even if you don't have much area to work with, creating a pantry custom to your needs, makes it much more functional. Incorporating smart solutions such as corner shelves opens up more efficient storage space. While convenient features like a full-extension roll-out shelves, allow for easy access of items at the back of the cabinet.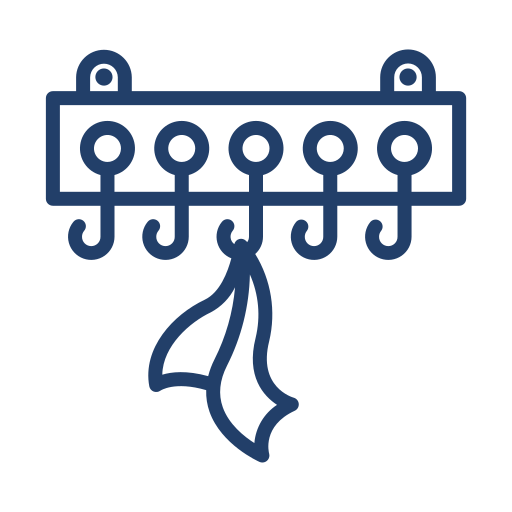 Mudrooms and entry organizations are growing more popular with today's busy lifestyles. We can help create family-friendly entry storage that is attractive and practical. Eliminate doorway pileup of coats, backpacks, and shoes. Keep your everyday necessities organized and ready for you, complete with a bench, coat hooks, and drawers.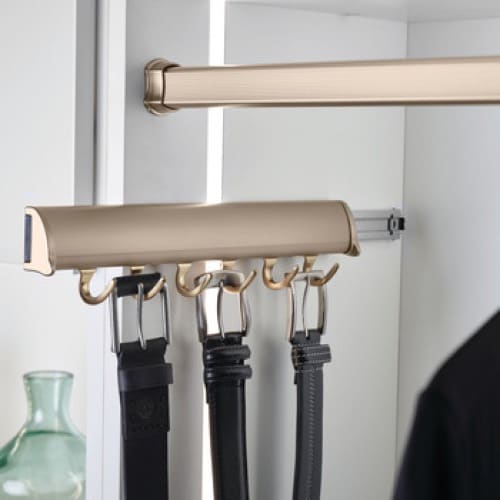 A belt rack is a must-have for any closet. It stores your belts neatly organized and easily accessible.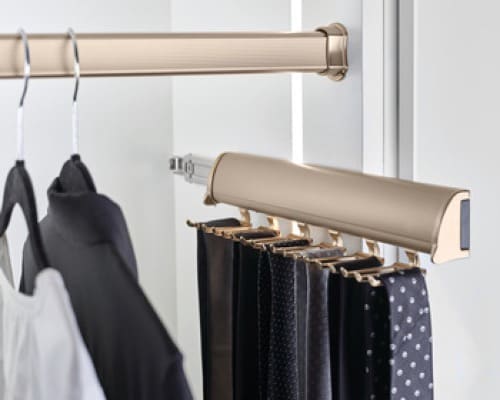 This full-extension sliding tie rack takes up very little space and allows you to organize and easily view your tie collection.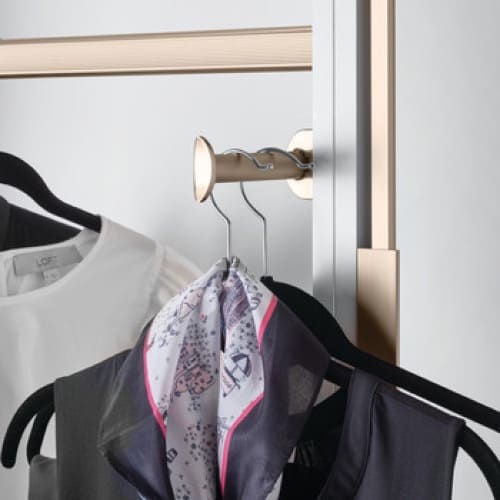 Make your morning routine less stressful with a retractable valet rod that conveniently holds tomorrow's outfit.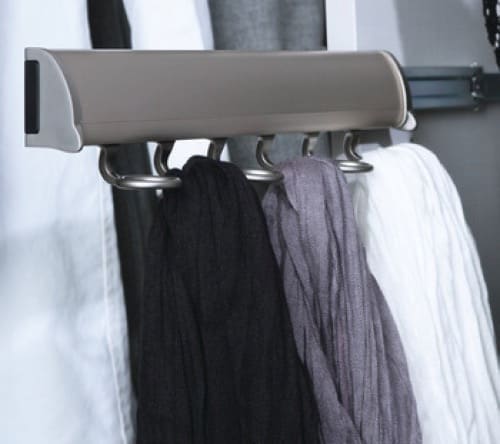 Display your scarves in an orderly fashion on a retractable rack.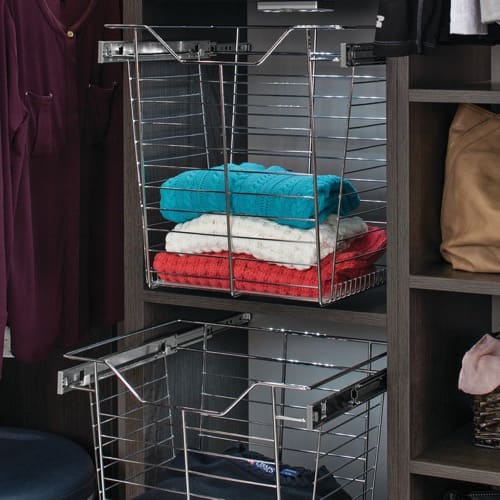 This basket glides out on full-extension slides and conveniently lifts off for portability. It comes in a variety of sizes and finishes, and you can add the optional liner.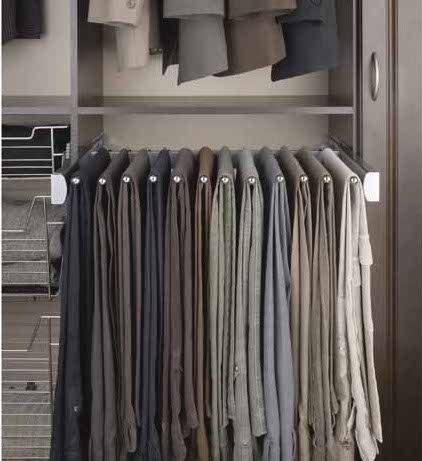 Keep your pants neat and organized with this elegant pant rack. It comes in three different sizes and fully extends on smooth gliding slides for easy access.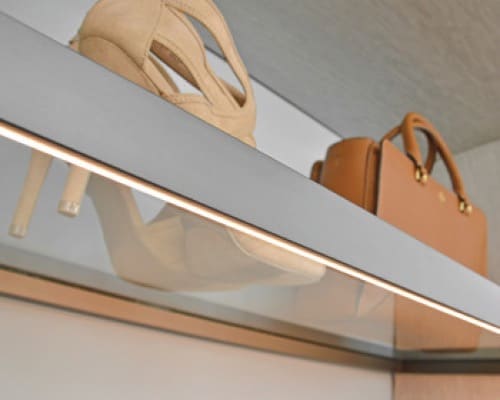 Showcase your favorite items on an illuminated glass shelf for a striking display.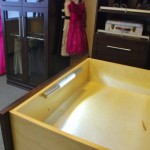 Now you can add LED lights into any drawer. They are slim profiled and have sensors that activate the light as soon as you open the drawer.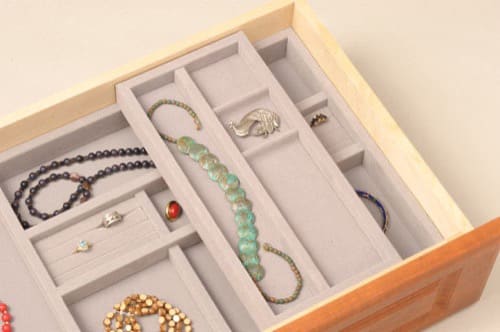 Custom sized, two-tier, sliding velvet jewelry tray provides the optimal solution for your jewelry storage.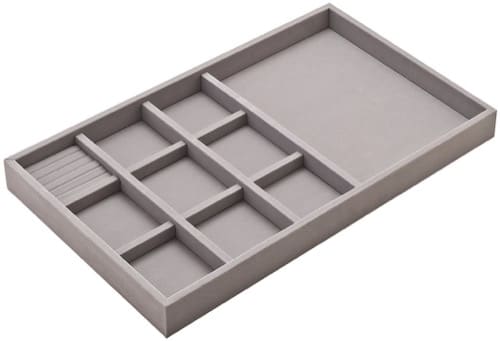 Velvet-lined tray featuring multiple compartments to keep jewelry organized and protected.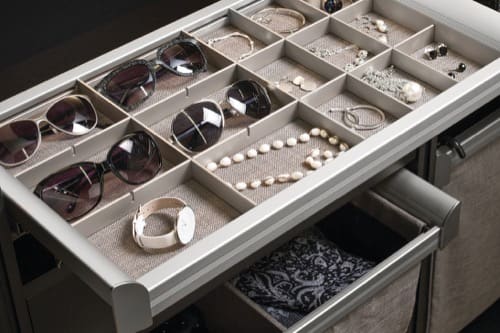 This jewelry organizer has unique grid dividers that can be easily re-configured to fit jewelry, sunglasses, ties, etc.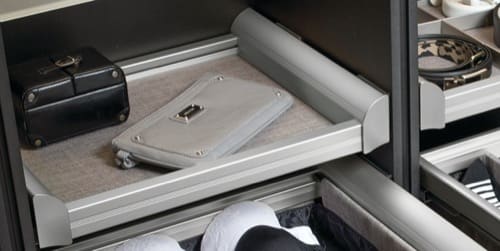 A beautiful multi-use pull-out shelf glides on full-extension, soft-close slides.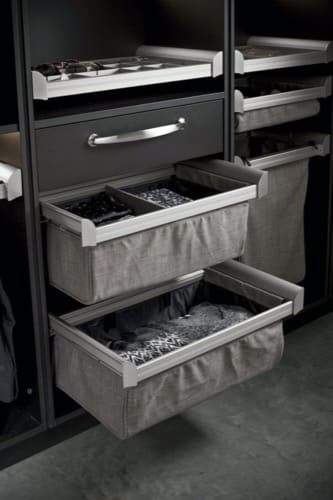 These elegant, fabric-lined baskets offer customizable compartments for sweaters, jeans, socks, etc.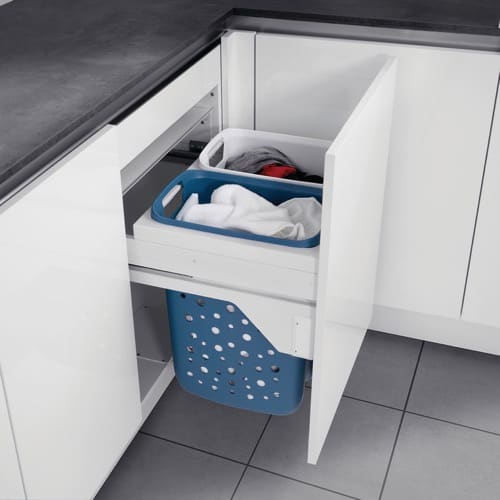 A sophisticated laundry hamper system with baskets that remove effortlessly with integrated handles. It also comes with a steel lid to conceal any odors.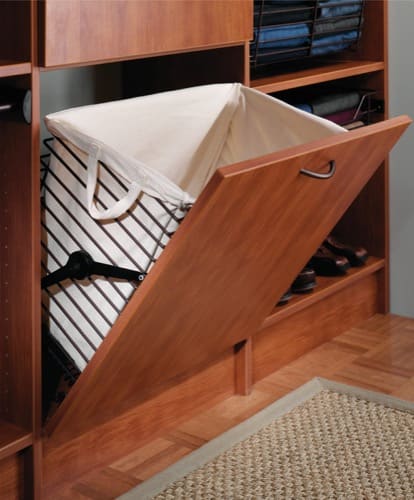 Store dirty laundry out of sight with a tilt-open laundry hamper. The durable wire basket lifts out and can be used with or without the cloth liner.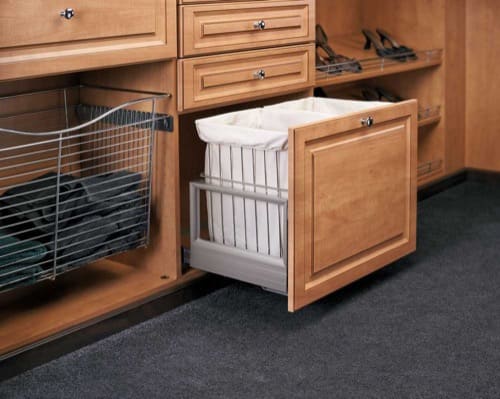 This slide-out hamper offers an excellent, discreet place to store all of your laundries. It features a perfectly fitted portable bag and soft-closing slides that fully extend for easy access.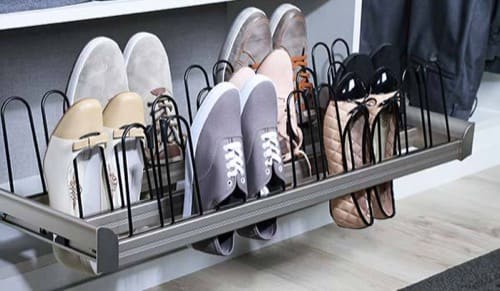 Store more shoes in less space using this shoe organizer. It comes in varying widths and stores 6-15 pairs depending on the size. It also includes specially designed sandal clips to turn the front row into sandal storage.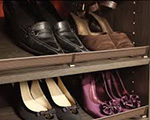 This shoe fence is the perfect solution for any size or type of shoe. It features a slightly angled shelf that allows for easy viewing and has a shoe fence to keep shoes in place.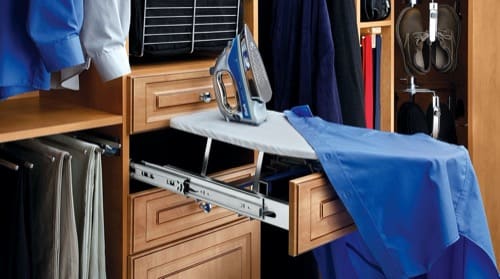 A uniquely designed ironing board looks like a regular drawer from the outside. Open the drawer to unfold an ironing board for quick touch-ups.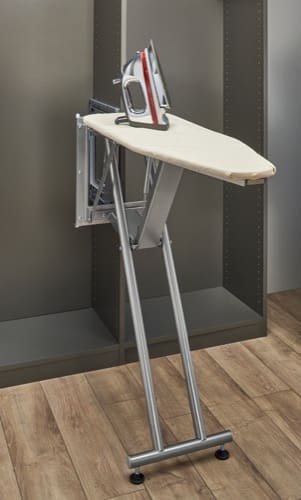 This soft-assist pop-up ironing board is 43" long and 13" wide. It's easy to unfold and features metal legs that lock for stability..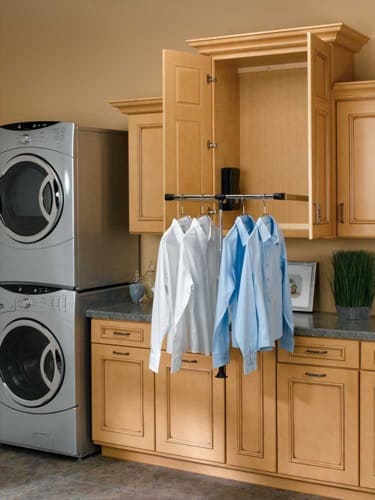 A pull-down closet rod is especially useful in closets with extra tall ceilings. It allows you to add an extra row of hanging space while making it easily accessible.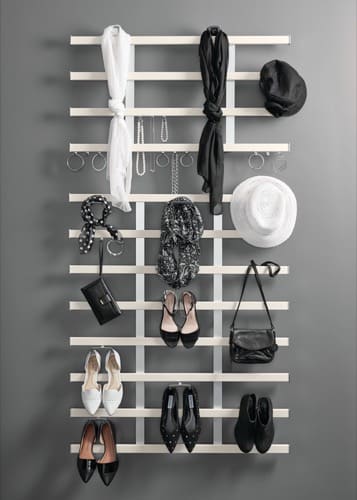 Symphony wall organizer works brilliantly in constrained spaces, combining low-profile wall storage with a high-end design aesthetic. It can be configured into multiple layouts and offers a selection of compatible hooks.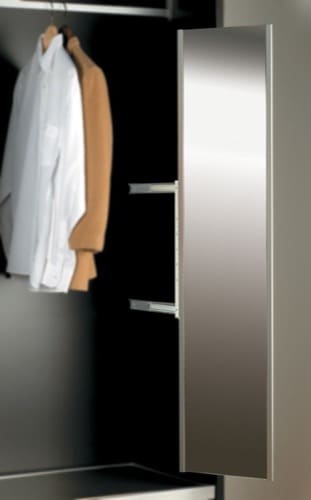 This practical pull-out mirror pivots 90 degrees when you need it, then rotate and push it back into the cabinet once finished.