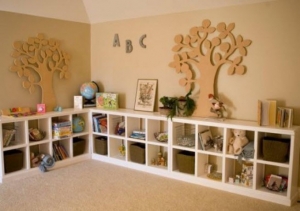 If you have kids, it's inevitable that you will have quite a few toys around! Even so, the clutter toys can cause can be eliminated (or at least reduced) with some of these insightful tips listed below.
Window Nook/ Seating
A bench placed under a window is a great place to sit and read (or daydream) and the bottom will double as a storage area to keep books, games and toys out of the way and have the room look clutter free. Bench seats are often equipped with under-seat boxes or drawers that slide in an out. Built-in window seating usually has drawer space or a seat that lifts for storage space much like a box chest.
Cubbies/Bins
Bins and cubbies (wicker, wire, wood or plastic), are great way to keep toy cars and other small items (like crayons) organized while at the same time keeping them out of the way. Stuffed animals, books and board games are other great items to store in bins and baskets. Cubbies can also be used as coat and shoe storage, which often include drawer space for other things such as toys. A dowel rack can be purchased to store bins, like books on a bookshelf, and often times bin storage comes with a rack.
Color coding and labeling bins are a great way for specific toys to quickly find their place when not in play, and when a specific toy is to be found!
Hang It Up
A hanging shoe rack can also provide extra storage space for toys; especially stuffed animals, clothing such as shoes, and blankets.
Another tip to keeping a child's room organized is to hang a calendar and/or a cork board so important information (like school assignments, party invites, and chore charts) don't get misplaced.
Toy Chest
A toy chest has been a tired and true storage space for a kid's room. Stuffed animals and extra pillows can be stored there during playtime use, and they also may serve as a seat. As your child grows, a toy chest can be used for photos and other cherished mementos.
Ideas specific to organizing bath time toys
Most children don't have their own bathroom which means this room needs to be neatly shared with adults who usually do not appreciate stepping on bath toys in the shower.
A waterproof shower hook and a lingerie bag is an ingenious way to organize bath toys. The mesh-type bag allows water to drip down and this convenient bag can be tossed in the washing machine or dishwasher (with the toys) and easily cleaned of mildew.
A plastic basket with holes or a colander is another great way to store bath time toys and keep all items in a central location, without collecting water and growing mold.
Final Word
Toys and kids are like water to the lake, but the clutter left behind can be manageable. We hope these tips have helped you. Please contact us for more storage solutions in and around your home.